JazzTeam is your reliable tech partner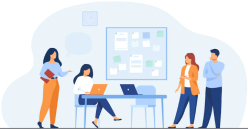 JazzTeam is a service company with well established processes and a strong culture. We provide comprehensive solutions for issues and tasks in the IT product development sphere. Our specialists implement best practices and effective tools that benefit the product and improve project processes.
At JazzTeam, we have our own project management culture and use standardized and formalized processes. The company instills this culture in every employee and constantly encourages initiatives on its development and improvement. All projects our company has participated in have been successfully completed thanks to well-organized processes and professional management.
We always offer our customers

new ideas and solutions

that can both improve their product and give them long term

significant savings

on development. When you contact JazzTeam, you will receive a detailed analysis of your project, see the real state of affairs, and be able to understand what needs to be worked on first.
Our team initiates a joint discussion regarding the risks and emerging issues with the customer, and we never gloss over any problems or difficulties we find. By maintaining

honest and transparent relationships

, we can choose the most efficient solutions and timely implement the practices necessary for

the product's scalability and stability

.
We are not engaged in body shopping. When working on any project, we comprehensively analyze the customers' requests and offer them the services they

really need

.
Roadmap for Working with JazzTeam
Over the years, we have created an optimal, structured approach to interacting with customers. Each stage of the JazzTeam cooperation roadmap is important for project success and reflects not only the main work milestones, but also the culture, values, and approaches of our company.
You can see the main JazzTeam cooperation roadmap below. In this case, we consider a complex project implementation. Stages of interaction may change depending on your requests and other factors.
1. Application
You can choose the most convenient way to contact us:
– Email us or fill in a contact form on the website
– Send us a LinkedIn message
– Call us
– You can also book a meeting with one of our specialists via Google Calendar
Feel free to contact us if you have any questions or suggestions for cooperation within the framework of our services or any other interaction. We would love to hear from you, and guarantee the processing of your request within 3 business days.
2. Request Clarification
After the initial processing of your request, we will schedule a get-acquainted meeting, where we will listen to your wishes and goals. At the first meeting, we will also provide all the details about the culture and principles of our company and explain how cooperation will take place. JazzTeam specialists will provide you with all the necessary information about our approaches to project management, stages of future cooperation, and estimation predictions.
We aim for maximum honesty when specifying the terms of cooperation. To make our work more effective and fruitful, we will strive to understand your goals and rationally correlate them with our capabilities from the very start of our interaction. We start to think about the future of the project and plan the stage of forming the team during the early stages of the joint work. We will assess whether our engineers are qualified enough, and also analyze which specialists and how many are needed, to solve the tasks.
Customer sincerity is very important for us in the communication process: the more you tell us about your goals, doubts, and requirements, the more elaborate and effective the solution we can offer you. For example, if you have issues with deliveries and team control, we will form a stable team for your project, help with transfer of experience, implement CI/CD, search, and work on the product bottlenecks.
3. NDA (non-disclosure agreement)
Our company will support your desire to sign an agreement of non-disclosure of confidential information. We understand that from the first stages of cooperation you are entrusting us with valuable information that is sometimes vital for your business. Moreover, we always initiate the signing of an NDA and we can either send you our version of the agreement or sign yours.
We always act in accordance with the GDPR principles when working on various projects.
4. Detailed request analysis and forming the team
To help us perform a detailed analysis of your wishes, we suggest filling in a checklist with a number of important clarifying questions. At the request clarification stage, we pay attention to the definition of deadlines, the technology stack, the necessary practices and tools (Unit testing, CI/CD), and other important issues.
When forming the team, we rely on the best approaches used in our company. We are confident that the project success depends not only on the technological competencies and motivation of engineers, but also on the personal qualities of each team member. Therefore, our company always clarifies how important leadership qualities and proactivity of a particular specialist are when selecting a team for customers.
JazzTeam employees always strive for well-coordinated work, so you can be sure that we will provide engineers who will easily and quickly integrate into your processes and team. They work based on a value culture, and will help establish best development practices on the project and, if necessary, improve the psychological atmosphere of your team.
It may be difficult for you to answer all the necessary questions at once. In this case, we will help you decide what specialists and practices need to be implemented on the project.
5. Project Estimation
Our company has extensive experience in the evaluation of various projects while operating under a T&M contract. This type of cooperation usually doesn't provide an initial evaluation of all works. However, in order to ensure peace of mind and gain the customers' trust, we always do a preliminary estimation of tasks and strive to complete the project on time.
Due to our use of effective project management approaches and strong management, the deviation of the actual time spent from the initial estimate for T&M projects in our company never exceeds 20%. We were able to achieve such good results using the following practices and approaches:
Setting tasks

(if necessary), as well as their preliminary assessment by our managers. Sometimes there may be no list of tasks that need to be implemented during the first iterations. In this case, our team, at the customer's request, will set tasks and conduct a preliminary estimation.

Decomposition and estimation of each task by engineers

. Once the task list is complete, our engineers analyze, decompose, and estimate each task in the project plan. They rely on their technical expertise and extensive experience in the development of various products, thanks to which we are able to achieve an even more accurate estimation.

Efficient risk management

. While working on the project, we carefully monitor the budget and inform the customer in advance about the risks of deviation from the estimate. At the same time, we offer the most effective options for solving the issue that has arisen, which will minimize costs and achieve the desired result on time.
6. Final Agreement with the Customer
Before proceeding to the contract signing, we arrange a final meeting for final approval of all the details of cooperation. Our team will present you the work plan and justify the rationality of choosing the particular tools and technologies they do. In addition, we will discuss any organizational issues with you. We will also determine how the project management process will be built, how often we will request feedback, and which project management tools are the most convenient for you to use.
7. Signing a Contract
Usually we work under a T&M contract, but if necessary we will consider alternative options for cooperation and find a compromise. Our company is able to adjust our Agile processes to the specifics of customer processes, regardless of your past experience. Upon request, we can advise you of the approximate cost of implementing your project or the necessary work.
8. Iterative Development
We rely on Agile philosophy and Scrum methodology in project management. Our company strives to demonstrate the efficiency and predictability of our work from the very first iterations to gain the customer's trust. For this purpose, we ensure the complete transparency of the team's actions and constantly receive customer feedback. After each iteration, we make a survey about satisfaction with our service. Our specialists create the necessary documentation, prepare reports, and offer new ideas for optimizing processes or product functionality. We use short iterations to quickly release new versions of the product. Each iteration includes the following activities:
Sprint planning, which allows us to prioritize the most important functions and focus the team on achieving results quickly
Implementation of the planned work (front-end and back-end development)
Testing (manual and automated)
Demonstration of intermediate results
Implementation of the developed functionality to the product
This approach allows our customers to receive and evaluate the first significant results of the work done just 2 weeks after the start of cooperation, and to make sure of the transparency of our processes
If JazzTeam engineers become part of your team, we try to understand your priorities and standards as quickly as possible so we can adapt to the processes of your project.
9. Product Support
After the work on your product is complete, you may have new ideas for changing or improving the system in accordance with its current needs. Thanks to our approaches and principles, we effectively solve issues related to product maintenance and support.
Our company initially thinks over and ensures the simplicity and ease of further application development, and then ensures it happens. In the early stages of development, we introduce continuous integration and delivery into the project workflow. Our team professionally introduces the processes which will allow us to promptly influence product quality, and provide the customer with the necessary test management tools to constantly control system stability.
In addition to creating new functionalities and fixing bugs in the application, we maintain the work of automated tests, create artifacts necessary for manual testing, implement CI/CD, and work out the technical debts. All this allows for the effective development of the product, and also the ability to easily make changes to it. We also accompany the system with documentation necessary for describing its operation, and create technical manuals for its installation and use.
We can start our cooperation with a single request and then flexibly adjust to your priorities
As practice shows, the solution of a specific small task often develops into productive cooperation, during which our team implements several projects for one customer. The level of our services is equally high regardless of the scope of the task and the number of specialists you need, as you can see for yourself.
Diagrams of the development of JazzTeam's relationships with different clients over time
For your convenience, we have prepared diagrams that show the development of JazzTeam's relationships with different clients over time. The diagrams clearly show how starting with a single service or a small study can lead to a systematic and comprehensive solution to your development, testing and project management needs.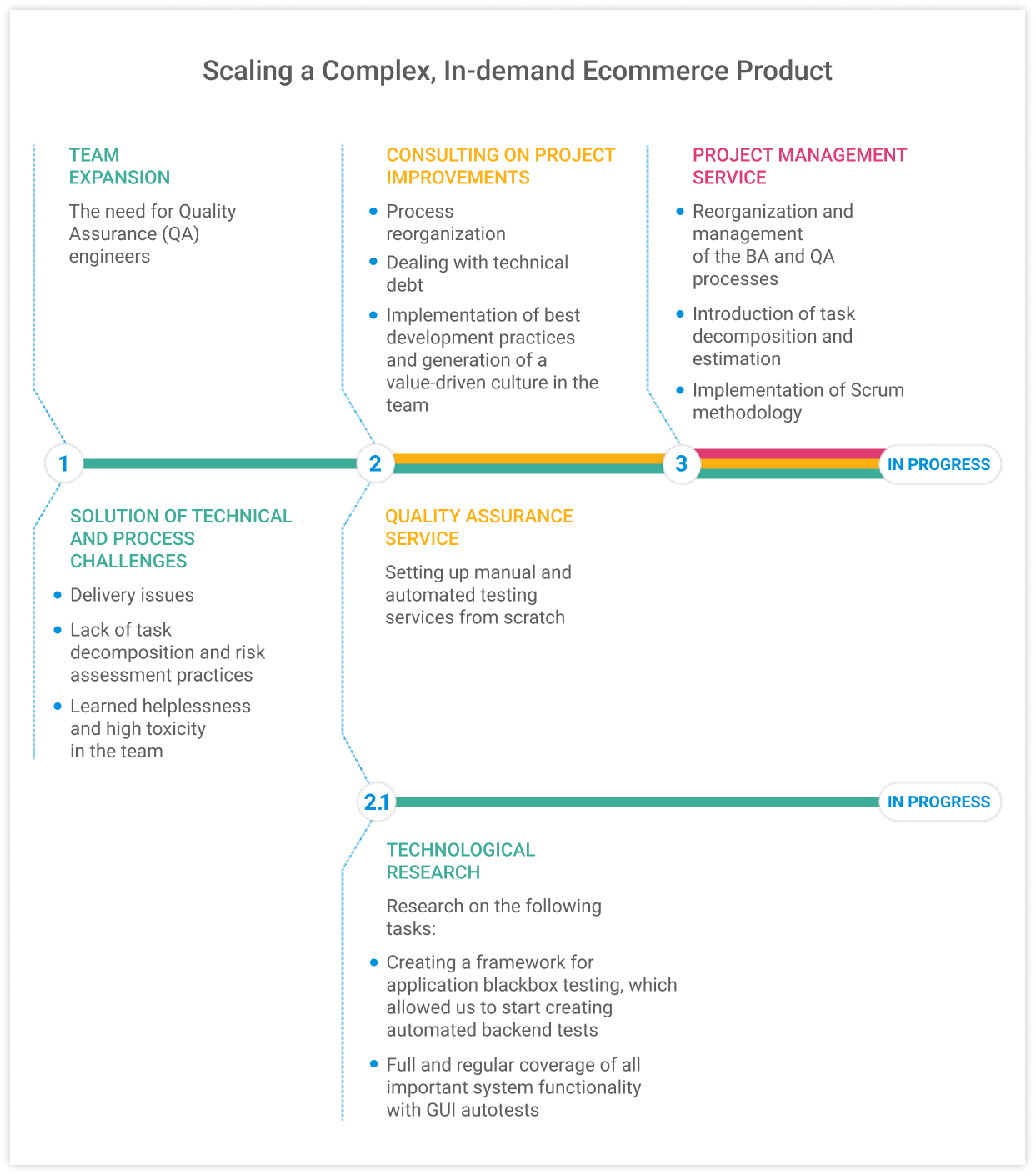 We offer various cooperation options depending on your individual goals and requirements
If you are not yet sure what type of service you would like to receive, we will select the best option for cooperation based on your needs and wishes. After analyzing the most popular requests from JazzTeam clients, we identified the typical needs of customers in the field of software development. We are sure that you will find exactly what your project needs among them.
1. I would like to choose the most effective cooperation format, and launch

a trial pilot project

to make sure your team works efficiently
Sometimes we come across situations where a client is afraid of cooperation with a new company, and therefore treats interactions with suspicion due to negative experiences in the past. We understand these concerns and are ready to earn your trust. You can start your cooperation with JazzTeam with a single service. For example, with R&D, architecture design, or refactoring. You will be able to evaluate our work during several iterations and, upon their successful completion, can then add other services (development, testing, management, etc.) if you so desire.
We have no doubts about the high quality of our service, so we are always happy to prove ourselves in business and demonstrate the work of JazzTeam on a small project. Thanks to this approach, you will see the first results of our cooperation in just 1-2 weeks.
We have been working with many of our customers for more than 5 years, and the vast majority of our interactions began with small tasks. We were able to confirm the high level of our service, gain the customer's trust, further expand the teams, and increase the scale and number of services provided.
2. Custom software development. I would like to receive a comprehensive product development service with frequent deliveries, transparent management, and proactive specialists.
Our company provides a comprehensive product development service, which always includes the following features and benefits:
3. I am looking for software engineers to work on my project
3.1. I need a stable, coordinated team with a well-formed culture and the necessary expertise to implement my project.
We believe that the coherence and stability of the team is no less important for the successful implementation of a project than the technical skills of the engineers. While selecting specialists for your project, we aim to form a well-coordinated team with the necessary combined expertise and experience in addition to a unified culture. Each JazzTeam engineer is guided by the principle of realism, takes a proactive position, is not afraid of difficulties, doesn't hide emerging problems, knows how to transfer knowledge, and understands their responsibility for the overall result.
We build stable teams that successfully work on a project for several years. Our managers help to strengthen relationships between team members and maintain a healthy psychological climate and friendly atmosphere. The skills of accumulating and transferring experience and our own educational system allow us to build a stable team which is able to carry out various projects.
JazzTeam specialists possess the necessary skills and constantly develop their knowledge. Our front-end developers learn OOP and design patterns. They use architectural and pattern thinking from the world of Java when building client-side logic in JavaScript. By applying JS frameworks (AngularJS, ReactJS, etc.), the specialists understand their functioning at a deep level. They study their source code and repeat best practices when writing their own frameworks, which are created in an extensible OOP style, following Java standards.
3.2. I am looking for proactive engineers who will strengthen my team and help establish a value-driven culture on the project.
Feel free to contact us if you need specialists who will be able to quickly understand the processes and specifics of your project. JazzTeam engineers can flexibly adapt to your project management approach. They will quickly find a common language with your team thanks to their well developed communication skills. Our specialists are also proactive experts well versed in best development practices, thanks to which they can strengthen your team and add structure and clarity to your processes.
Our engineers understand all stages of the CI/CD process, independently evaluate, decompose tasks, and escalate the difficulties that arise to the project manager in a timely manner to prevent risks affecting the project. The culture of Unit testing in our company is established at the level of standards and has been showing its effectiveness for over 10 years.
4. I would like to conduct technology research (R&D) with short iterations and a transparent status
JazzTeam has accumulated significant experience in the field of technology research. Clients who develop innovative products in the field of science, IoT, and other complex areas often seek us out. We have developed an optimal approach that allows us to conduct research providing 4 critical factors.
5. I need consulting services
5.1. I would like to consult with experienced professionals who have an extensive technical and managerial background.
The customer may encounter difficulties, questions, and additional risks in the process of implementing various projects. Depending on the service type provided, we always discuss, solve customer problems, and share our experience. However, there are situations when customers require a professional consulting service. Consultations can be combined with coaching and the presence of our company's specialists in the customer's office for a deeper audit and experience transfer. The founder of our company, Dzmitry Harachka (who also provides IT consulting services as an independent expert, zmicer.consulting), is involved in solving complex issues on the project in the most difficult situations or at the initiative of the top managers of the business.
Dzmitry's goal is the evolutionary improvement of engineering processes, while maintaining the fundamental principles of your business organization. During consulting, he applies the three most important parts of his experience.
He uses his technical background as an

engineer and architect, as well as his CTO qualifications, to establish a process for dealing with technical debt. Thanks to his technical background, he quickly gains credibility among developers, proving the importance and effectiveness of applying best practices. As a result, the team begins to approach the process of working on the product more meaningfully and actively discussing the events taking place on the project.

He applies the thinking of the IT company owner in the process of consulting

, has no barriers in communication with stakeholders, and helps to solve complex business problems.

He leverages the skills of organizing product delivery processes

for systematic work to improve development processes (business analysis, testing), and also introduces the practice of planning various flows, a culture of task decomposition, and estimating.
5.2. Elimination of technical and process debts. I intend to improve the technological component of the project in a cost-effective, systematic, and painless way.
A large amount of accumulated bugs and delivery issues often interfere with product development and sales growth. Our company professionally organizes work on technical debt elimination and gives a powerful impulse to the development of the customers' business. In the process of consulting, we always adhere to several principles:
Thrift

. By implementing changes, we preserve what you have created

Evolution

. We introduce new practices gradually and painlessly, which allows us to keep the team and, even while constantly working on technical debts, focus on the timely release of business-critical functionality

Cost-effectiveness

. We justify every decision and implement practices which allow us to achieve significant savings in the long term

Consistency

. We comprehensively and particularly analyze the project challenges. In parallel with the elimination of technical debts, we improve the culture of the team, optimize processes, and solve problems associated with psychological difficulties
5.3. I need a professional project management service and stable deliveries.
Our company has developed its own project management culture based on Agile software development methodologies, sound estimating principles, and timely risk handling. JazzTeam managers adopt the experience of their colleagues gained on hundreds of projects over the many years of the company's work, and discuss current issues during general meetings. This means that by turning to us, you will get not only high-quality management, but also all of our cumulative long-term experience, which makes it possible to solve various project issues in the most effective way possible. Our managers provide a high level of project process management, implement the necessary task tracking and test management tools, and apply the best product development management practices.
JazzTeam managers independently organize effective interaction with the team and product owners. Transparency, added value through process improvement, and regular feedback are the principles that guide our work. You will regularly receive information about the current project state and will see that the situation is under control without the need for constant involvement in the project. By entrusting the task of project management to our manager, you can be sure of the stability of deliveries and the team, the timely prevention of risks, and the continuous improvement of processes.
6. I am looking for a solution to business challenges that are hindering the development of my business.
The source of challenges on a project is not always obvious. Most often, the root cause of technological stagnation includes several factors at once, including those that are not seen at first glance. We know that the lack of a development culture, systematic elimination of technical debts, and even small flaws in processes can negatively affect the stability of a business. Our company openly and extensively broadcasts this idea to customers and helps them cope with such issues.
In our work, we study the influence of psychological nuances on project success, for example, the learned helplessness of specialists. We often see this issue in a variety of teams and know how to deal with it. JazzTeam experts are ready to prove to you that small but consistent efforts in the right direction will eventually lead to significant results and improvements. Your business problem can be solved, and we know how to do it!
7. I need a professional IT service with in-depth systematic expertise to solve a particular task on my project. I would like to order a service for product development, testing (manual or automated), integration, and technical support.
We provide a comprehensive software development service, including business analysis, planning, building processes, design, testing, and implementation. Therefore, it is not difficult for us to provide each of these services separately. Our company has a variety of expertise, and we also have the necessary specialists who can become part of your team.
Our company uses 2 components as the basis of any engineering service: competent management and a well-organized CI/CD process. Depending on the type of service, during the work on the project this bundle is integrated with other processes, whether it is testing, development, or technical support. A strong foundation allows us to iteratively build processes and implement any necessary practices while maintaining the stable operation of the product.
Deep systematic expertise in autotesting and extensive experience in using the best Java technology practices allow us to ensure the reliability and high quality of the product, regardless of the types of services provided.
We are open to a dialogue and ready to offer various options for cooperation:
We can start working with 1 service and proceed with others after you are convinced of our efficiency. Also, if desired, you can stick to only one service.
We can take over product development from scratch, including R&D and task setting.
You can involve us in a highly specific task, and we will provide you with the necessary specialists. By joining your team or interacting with other teams, we guarantee correct, friendly interaction and transparent communications.
8. Development center creation. I would like to build long-term, trust-based cooperation to solve my tasks, and form a sustainable and stable team to work on various projects.
If you need a stable team to work on a number of projects and subprojects in different directions, we are pleased to offer you our comprehensive service. Our company is strong at server-side development and also has expertise in front-end development, test automation, and project management. When working to solve your issues, we initially think about how to improve the processes and the technical component of the product, and use a strategic and systematic approach to completing tasks. For example, if you need to significantly improve the stability of the product, we recommend that you first establish Continuous Integration and Delivery (CI/CD) processes, introduce the practice of Unit testing, and only after that create new automated tests.
Our competence in building long-term relationships with customers is proven by the numerous customers for whom we have been solving various challenges for 3-5 years. We are focused on long-term cooperation, so we initially build relationships with customers on the principles of transparency and responsibility.
Advantages of Cooperation with JazzTeam
We believe that every task should be solved comprehensively. Our team will think about the future of your project for years to come while maintaining a high pace of work. As practice shows, harmonious product development is only possible with proper planning, timely implementation of the best development practices, and maintaining a friendly team atmosphere. Therefore, even if you need only a single service, specific specialists, or the implementation of individual approaches, you get much more than you expect when cooperating with us.
We provide competent management, offer new ideas for your product development, help improve processes, and transfer best development practices and the culture of value-based approach to your team regardless of the service type you choose. Transfer of experience, proactivity, and commitment to process improvement are at the heart of the JazzTeam standards. We aim at ensuring that after the completion of the work, you not only have an excellent product, but also complete confidence in its stability, high-quality code, development opportunities, and cost-effective support.
We save you money

by estimating and decomposing tasks, as well as implementing engineering practices in a timely manner.

We build transparent relationships

. You can dive deep into the project if you wish, but if you want to spend as little time as possible on it, we will choose the best option for communication and provide you with all the necessary information.

We solve the most complex technical tasks

and help you get out of a difficult project situation. We don't see challenges as insurmountable, but rather obstacles to overcome.

We know how to overcome learned helplessness and manage accumulated technical debts

, which has been proven time and again in practice.

We are proactive and always initiate improvements on the project

.

We are strategists. When we complete the project, you will be able to easily scale the product and expand the team by yourself

. We will provide you with all the necessary tools for controlling, reporting, and preparing high-quality reference projects and documentation. We have extensive experience in training and creating tools for the quick and painless introduction of new specialists into the team.

We are a service company

with well-built processes, established culture, clear work standards, and 10 years of experience in software development.
Contact Us
Contact Info
We are always glad to interact with you!