Customer consulting is an integral part of our service
One of the most important foundations of JazzTeam culture is a proactive attitude. When performing the main tasks, we offer new ideas and solutions that bring additional value to our customers, as well as transfer our development and project management experience.
Regardless of the types of services provided, our company strives to establish trust-based relationships with customers. Each JazzTeam service implies the participation and assistance of a project manager, who is always ready to advise the customer on emerging issues. If a manager sees problems in the processes or technological difficulties, they focus the customer's attention on the existing risks, openly discuss possible consequences with the customer, and explain the actions to be taken. This approach allows the customer to clearly see the real situation on the project and understand which practices need to be invested in right now.
However, a complex solution is required in some situations: from project analysis and creating an improvement strategy to implementing practices by the manager and working with engineers. For example, when years of delivery problems and the accumulated technical debt have a negative impact on the team motivation. In this case, we provide a professional IT consulting service, as well as solutions to technological and business problems on the project.
What problems on IT projects we help to solve
As part of consulting, we provide a service for solving business problems.
Our team conducts a project audit and proposes effective strategies that allow to find answers to the following problems and challenges:
Technology-related. Scaling of a complex product, getting out of the technological crisis on the project, the accumulated technical debt.
Process-related. Low manageability of the development team, non-transparent processes for the founder of the company, constant "on fire" mode on the project, lack of clear development and testing processes.
Psychological. Lack of motivation and value-based development approach in the team, learned helplessness.
Types of consulting services
Based on many years of experience, we offer the following services that help improve processes and technological aspects of IT projects:
Establishment of processes for planning and risk assessment, development, quality assurance, and software delivery.
Project management with the implementation of Scrum methodology and professional use of Jira.
Development of a Continuous Integration and Continuous Delivery (CI/CD) implementation strategy.
Technological modernization of the product:
creation and implementation of a strategy for customer requirements processing;
architectural consulting, work with accumulated bottlenecks;
development of a complex product distinguished by high coherence of components and outdated code, implementation of a refactoring strategy;
development and implementation of a test automation strategy;
implementation of a Data Driven Testing approach to stabilize complex products with large amounts of data.
Consulting on the organization of complex and innovative technological research (R&D).
Improving the psychological atmosphere in the team. Overcoming the learned helplessness of specialists, getting rid of the psychologically difficult environment within the team.
Consulting from the current founder related to complex solution of business problems and conflict mediation (zmicer.consulting).
Advantages of JazzTeam consulting
Over the years, we have helped dozens of customers improve processes, build a technological strategy and break out of a seemingly dead end thanks to the following advantages:
Prudence and cost-effectiveness. By implementing changes, we save everything you create. Our team gives reasons for each decision and introduces engineering practices that generate significant savings over the long term. All changes and improvements are carried out only after a thorough analysis of possible risks. Therefore, even in the process of serious work on technical debts, your team will remain focused on commercially important software deliveries.
System approach. We comprehensively and elaborately analyze problems on the project, in parallel with the elimination of technical debts we improve the team culture, optimize processes and solve problems associated with psychological difficulties. Thanks to the parallel development of several directions, we are able to quickly achieve the first significant results and ultimately eliminate all the causes of difficulties and problems on the project.
The ability to broaden your outlook in IT. In the process of cooperation, we make business representatives who are not involved in the development of high-tech solutions delve into complex concepts of IT processes and the infrastructure, we explain how small investments in working with the technical debt bring back product scalability in the future. Working with us, you dip into the current processes and approaches of software development, understand the features of IT project management, and in the future you will be able to actively participate in building processes in the team. This increases your independence and allows you to apply the gained experience to other projects.
Gradual painless transformations for the team. Changes in the company often generate internal resistance among employees. Our professional approach allows us to gradually and painlessly introduce new tools and practices. In the process of providing consulting services, we simply and clearly explain the need for the proposed solutions, demonstrate to the team the effectiveness of implementing engineering practices (CI/CD, writing Unit tests, test automation) and Agile events. As a result of this approach, the customer's team remains the same even upon significant long-term changes in the company's processes.
Honesty and openness. Working on a project, our team carefully examines your product, peculiarities of its architecture, management processes, and the atmosphere in the team. As a result of the analysis, we share with you an independent view reflecting the real project state.
You will be able to understand what caused the problems, delve into the current situation on the project, and make decisions on further actions.
The predictable future of your product. Using the skills of strategic planning and professional flair, we will create a strategy for the development of your product for several years to come, which will allow you to avoid mistakes after the end of our cooperation. Being guided by the proposed plan, you will be confident in the future of your business.
What you get from JazzTeam consulting
An independent view of the situation on your project.
Detailed analysis that will help accurately identify real sources of complexities on your project.
Long-term strategy for product development.
Well-built development, testing and delivery processes.
Regular stable releases of new versions of the product.
Established value-driven culture in the team.
What business goals you can achieve by working with us
Your business will reach a higher level of development through the improvement of the product and processes and, as a result, an increase in the profit, improvement of the company's image and competitiveness.
Collaboration with larger customers, an increase in sales, international expansion.
Scaling of a complex product, getting out of the technological crisis on the project.
Reduction of costs for the implementation of current technologies and practices.
Minimization and predictability of risks due to well-built processes.
Stability and low turnover of talents in the development team.
How to order a consulting service?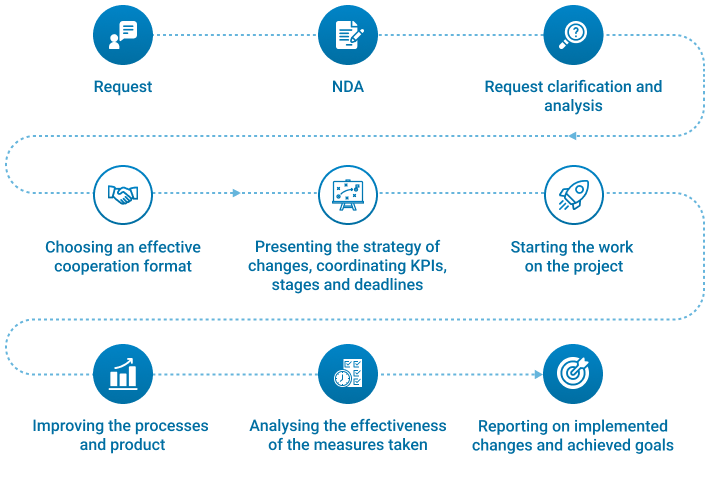 Leave a request on our website. We will contact you and schedule a meeting.
Signing a non-disclosure agreement (NDA).
Communication at your request.
Detailed analysis of your request (analysis of business processes, management strategy, organizational structure, assessment of the opportunities and problems of your business).

*

Selection of an effective cooperation format, required services.
Presentation of the strategy of changes, coordination of KPIs, stages and deadlines.
Start of work on your project: acquaintance of your team with JazzTeam specialists, introduction of our manager into your team for the temporary management of processes on agreed terms.
Taking necessary steps to improve processes and the product.
Analysis of the effectiveness of the measures taken.
Reporting on implemented changes and achieved goals.
* If you decide to stop cooperation at this stage, we will provide you with an official document describing the problems identified and a list of actions proposed by our company.
Looking for personal consulting services from a founder? Contact us
In especially difficult situations on a project, when you need the help of an independent expert with extensive experience not only in software development, but also in building business processes, you can contact our founder, Dzmitry Harachka (zmicer.consulting). As the founder of his own company, which has been successfully operating for over 10 years, Dzmitry will understand your feelings and "pains". Drawing on the mindset of a business owner and investor, he effectively solves issues related to taking your business to the next level and the corresponding responsibilities associated with a product stability increase. In addition, he is professionally engaged in mediation of conflicts and misunderstandings between founders.
Even before the creation of his company, Dmitry acted as an Agile consultant on international projects for several years. Now he provides a service for implementing Scrum project management methodology. The use of Scrum processes will allow establishing regular deliveries of new product versions, ensure the team work transparency through daily stand-ups and demonstrations of the functionality created during the iteration. The achievement and problem analysis of each iteration will be regularly held at retrospectives. Dzmitry will also help you establish reporting at all levels and implement the necessary tracking tools (Jira, Trello).
Dzmitry has a high degree of empathy and builds trust both directly with the product owner and with the team. Thanks to this approach, he makes transformations with no negative effect on productivity and increases the efficiency of IT specialists. He also has extensive experience in dealing with learned helplessness of engineers.
INTERESTED IN WORKING WITH US?
Interesting consulting cases
Contact Info
We are always glad to interact with you!