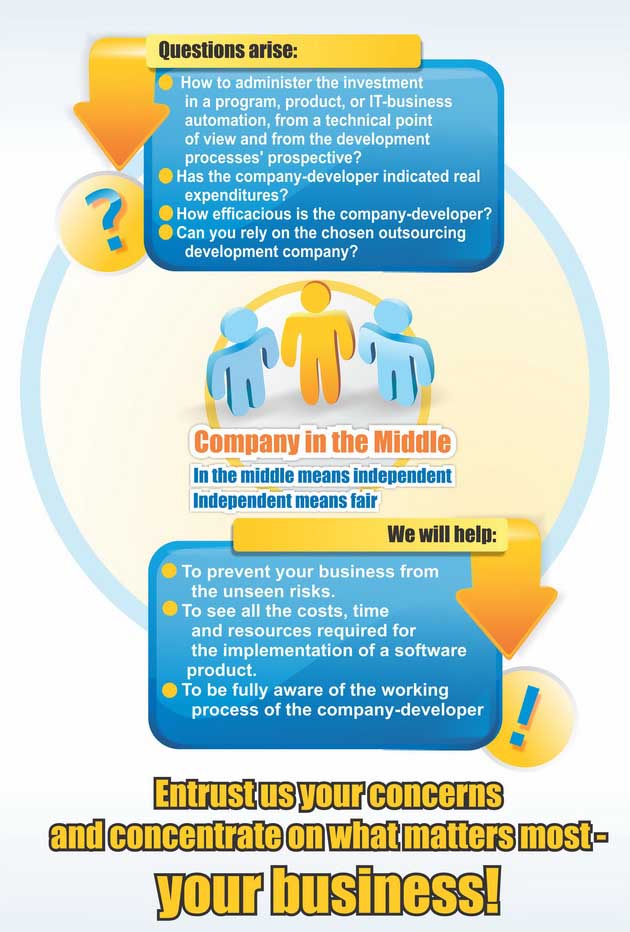 In the middle means independent, independent means fair.
You are a successful business company, which needs an IT service (outsourcing). You find a company-developer, and place an order to develop a software product, or any other IT service that implies programming. Some questions begin to appear in the course of your collaboration:
How to administer the investment in a program, product, or IT-business automation, from a technical point of view and from the development processes' prospective?
Has the company-developer indicated real expenditures?
How efficacious is the company-developer?
Is the outsourcing company, you are going to hire, trustworthy enough?
The involvement of independent IT experts is the best solution in this case.
JazzTeam company is glad to offer you its professional "Company in the Middle" service.
We enjoy considerable experience in the development, planning and realization of high-tech projects. We know how to determine the worth of a quality result! We know what a real product looks like!
We adhere to the combination of software development quality and the principles of Agile. We are honest in our responsibilities. In our hands your project will be secure.
We will help you::
To prevent your business from the unseen risks.
To see all the costs, time and resources required for the implementation of a software product.
To be fully aware of the working process of the company-developer.
If necessary, our company will provide you with the external project management, our professional coordinators and managers will render necessary assistance to the company-developer.
We are also ready to provide our programming and technical assistance in critical situations, rendering general consulting services or conducting audit of the development company, its team and processes.
We will provide you with all the necessary recommendations to enhance the effectiveness of the development and will give a cue how to reduce the costs.
Our cooperation is a joint efficient creative work throughout the whole life cycle of an IT project.
Entrust us your concerns and concentrate on what matters most – your business!