To make our work more efficient, we at JazzTeam constantly use modern technologies to complete various tasks. This time we decided to use artificial intelligence to creatively congratulate the girls of our company on the International Women's Day – March 8.
Our project manager and CEO developed the concept of an unusual congratulation, which was based on game mechanics. It was important for us to create not just a standard congratulation, but to make it interactive, interesting and memorable, to cheer up, to please our female colleagues.
The idea was to use artificial intelligence services to generate funny, humorous pictures on the topic "What girls dream of", which should have automatically run one after another with background music and creative congratulations from our men. To generate the pictures, our guys came up with cool, funny ideas on the topic "What girls dream of", for example, "girls dream of a musical congratulation from hare bards in a forest glade", so this dream was visualized by Midjourney: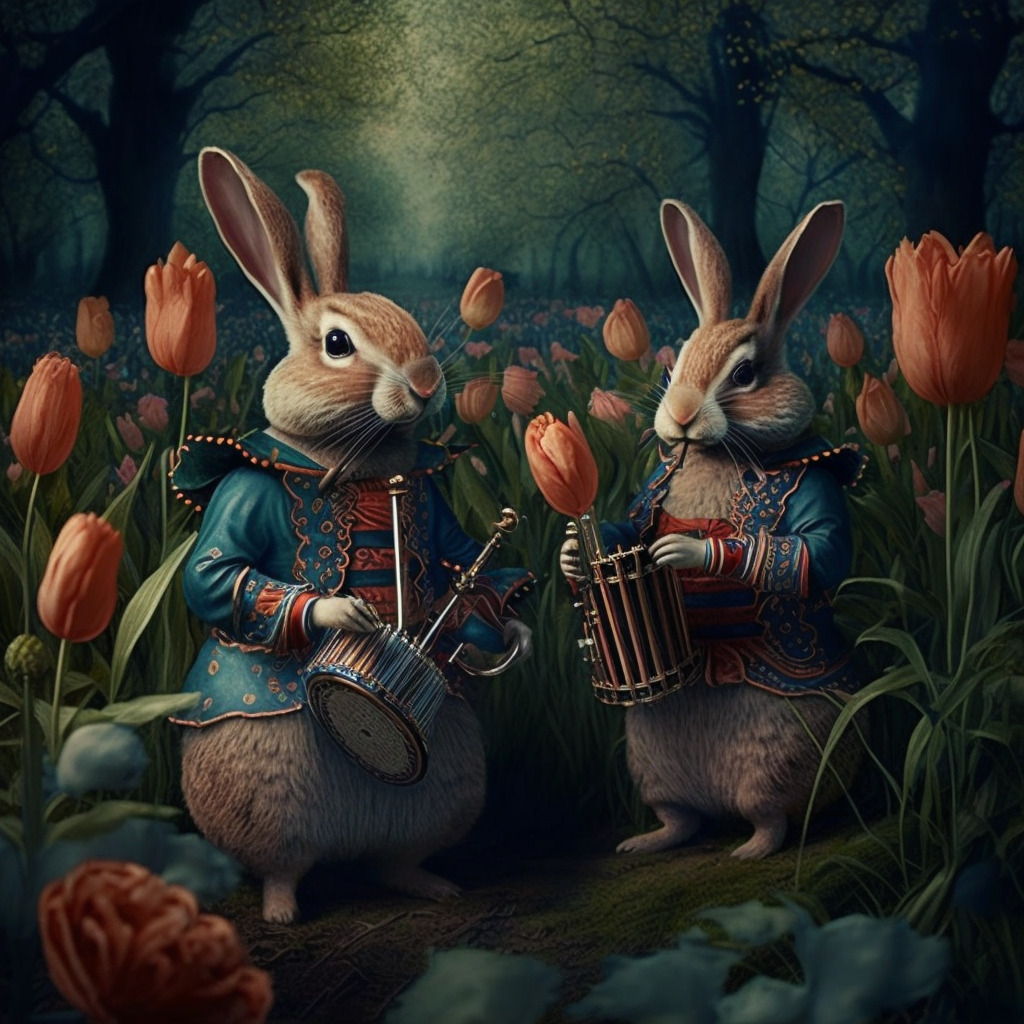 Astrological forecast generated by ChatGPT:
Dear, today the stars say that you will feel like you are in a forest glade in the spring, when everything is blooming and full of life. However, beware as a hare playing the accordion among flowers, you can easily miss an important opportunity that will soon appear in front of you.

Like the tulips, your heart will open and be filled with love and attention, but do not forget that the accordion requires diligent practice to achieve the perfect sound. You will need patience and diligence to achieve the desired results.

The stars say that in the near future you will find new friends who will be on your wavelength and who will help you become the best version of yourself. Don't be afraid to step out of your comfort zone and try something new – like playing the accordion if you haven't already.

In general, you will have a bright and eventful period, full of opportunities and adventures, as for a hare who is in the center of a forest glade and is discovering new paths and ways. Therefore, continue to live your life the way you want and do not forget to enjoy every moment like a hare playing the accordion among flowers.
Midjourney, our AI assistant, generated pictures based on humorous and somewhat absurd ideas of our guys, which formed the basis of the video congratulations. The pictures turned out to be fun-filled, entertaining, the girls thoughtfully analyzed them and chose the one that was closer to them in spirit.
Then, the girls were waiting for the next exciting part of the congratulation, which was also created with the help of artificial intelligence. ChatGPT generated ridiculous astrological forecasts based on the guys' ideas "What girls dream of." Thus, each girl received a funny astrological forecast in accordance with the selected picture. The texts of the ridiculous astrological forecasts turned out to be multi-level, which allowed us to attract people of different ages and worldviews. The texts were imbued with light and understated humour, which caused smiles on the faces and cheered up our girls.
But more importantly, we got a lively response from our girls who found a lot of interesting and useful in the pictures and forecasts. Many of them shared their congratulations with their families.
For example, the picture of a dreaming girl looking in the mirror was chosen by two colleagues of different ages who found moral and psychological depth in the picture: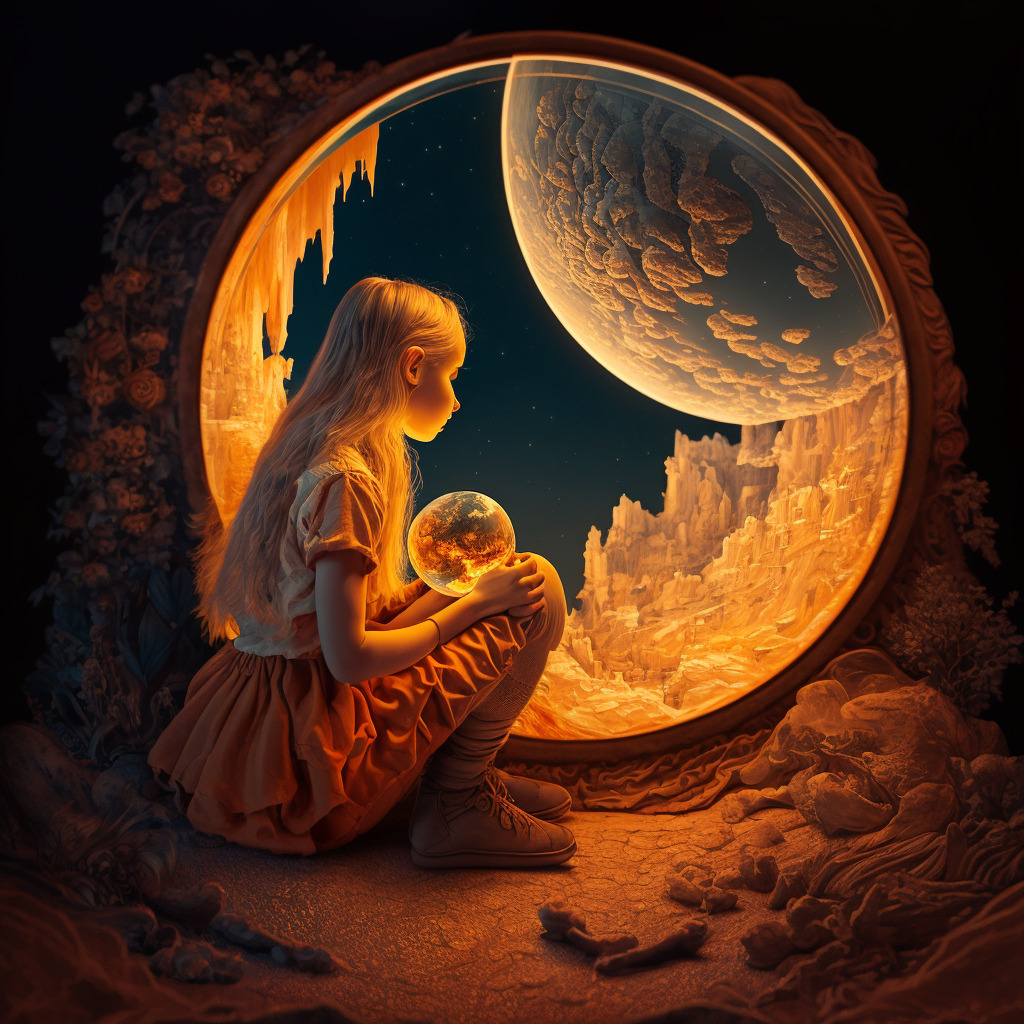 Astrological forecast generated by ChatGPT:
The stars say that you are on the edge of Venus and dream of having a magic mirror that will show you your best version. Although it sounds tempting, you should remember that your best version is already inside you.

The stars advise you to take your mind off the search for a magic mirror and start believing in yourself. For example, you can try to find your inner balance, accept your weaknesses and improve your strengths. If you do this, your best version will shine with a light that will outshine any mirror.

However, if you're still hungry for magic, the stars can give you some cues. For example, if you see a shooting star, make your wish, or if you hear the sound of dolphins in the ocean, it may be a sign that your wish will come true.

So don't get discouraged, darling, and keep believing in yourself. Your best version is already inside you, and if you follow your dreams and aspirations, it will shine brighter than any mirror.
And the picture of a girl reading the newly released chapter of her favorite manhua in the demon's castle was chosen by a professional psychologist who found the description of the picture completely similar to how a real psychologist should work:
Astrological forecast generated by ChatGPT:
Honey, the stars say that you have a special gift – you can become the editor-in-chief in your own world, having a supernatural ability to control the plot of the book and change the endings!

Your power will be so great that you will be able to intervene in any story and change it in your favor. If you don't like the ending of the book, you can write your own and change the lives of the characters! You will no longer need to be upset if the main character dies, you can save him, even if the author didn't want it.

But beware: your power may be too great, and you may forget that the heroes of the book have their own lives and destinies. Sometimes it's better to just enjoy the story as it is, and let fate and heroes solve their problems.

So don't be afraid to use your gift to create your own stories and change endings! But don't forget that books are a wonderful world, and sometimes it's better to just trust the author and enjoy the story they want to tell us.
After the astrological forecast, the congratulations program included a competition for the best creative title for the selected picture of each of the girls. Then the girls took part in a quiz, where we invited them to test their intuition and ingenuity to guess the original name of the dream for which the picture was generated. Here, we also turned to ChatGPT for help, which generated humorous answers for us.
Our experience has shown that today you can successfully use artificial intelligence services to develop creative tasks and entertainment content. Artificial intelligence can be a valuable tool for designers and copywriters.
For example, the use of Midjourney saved us a tremendous amount of time needed for the creation of high-quality and detailed pictures. To create one illustration, a designer may need several days or even weeks of work. With Midjourney, our designer managed to create 30 entertaining, powerful pictures in just 3 days.
Using ChatGPT to create a ridiculous astrological forecast made it possible to write a funny, multi-level text that resonates with completely different people.
However, it is important to understand that AI shouldn't be used as a substitute for human creativity, but as a tool for its improvement. At the moment, AI cannot replace the unique human views and ideas that underlie creative projects, but it can help simplify the process of developing creative artifacts and offer new ideas. AI can be used to create unique visual effects, illustrations and even to write witty texts.
By combining the creative potential of a human being with the use of artificial intelligence, we showed that it is possible to create unique and innovative content that will resonate with your target audience.