On the 30-31 of July we celebrated the birthday of our company, but this time we had a special occasion – small, but the first JazzTeam company's anniversary. We all gathered to congratulate the beloved company, and simply relax together!
The celebration began with a visit of Trampoline Arena, where 18 trampolines and 2 foam pools for free jumps and acrobatics were provided. Almost all of the JazzTeam employees were on trampolines for the first time, but eventually all they were very satisfied!
Many of us have learned to perform simple acrobatic elements, and some guys even mastered the difficult acrobatic stunts.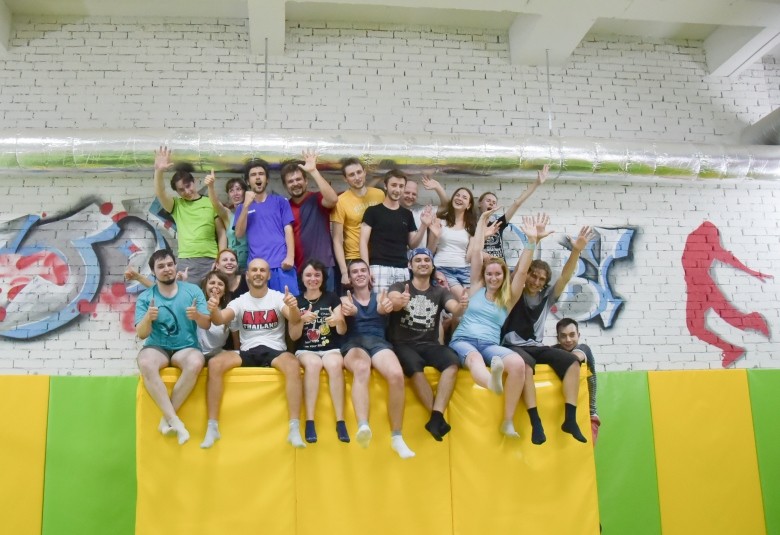 Further, the celebration continued with a laser tag game in abandoned factory. During the game, our teams had to fight the terrorists, to defuse bombs, to think through the strategy of capturing combat points and, as a whole, to fight for the team victory and to watch the colleagues backs.
The corporate celebration ended with the feast with sincere conversations and sauna in the mansion. It is worth noting the organization and hard work of our employees, upon arrival everyone began to help: to serve a banquet table, to kindle a fire, to cook barbecues (special thanks to the cook and the campfire guy). The head of the company has prepared a musical feast accompaniment. It turned into a cozy way and in Jazz rhythm.
The surprise for all employees was a gift from the company head Dmitry Harachka – branded T-shirts with the company logo and elements of the national symbols. As a result, there was a sense of cohesive big family.
The response gift to the head from company employees was a wall clock as a symbol of time that we have spent together, shoulder to shoulder for the past five years, and as a symbol of infinity – with a belief in many more years of development and prosperity of our company.
Our corporate ended playing the guitar, dancing and movie viewing of the legendary series "Fargo".
Many thanks for the holiday to the organizers and participants! Hooray!